Overview: The referral page is the place where you can review new potential clients prior to adding them to your lead pipeline. Qase makes it easy to review and respond to new referrals.
Here's how it works:
1. Open the email notifying you of your new referral
2. Review the referral and accept or decline
3. Log in to Qase to view referral details and mange your lead pipeline
4. Send a booking link to your potential client to schedule a consultation
---
Email Notification:
Open the referral notification email and select 'Click Here'

Log in is not required to accept or decline the referral
Review the referral details and select accept or decline
Accept the referral: no further action is required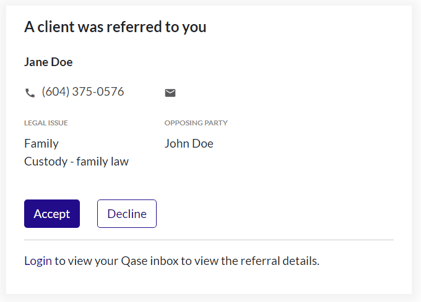 Decline the referral: please select a reason for the decline. You can also add a comment.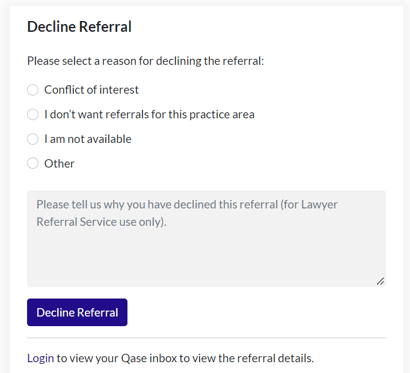 The reason for decline and comment will only be shared with the referral service.
---
Log in:
When you select Log in for the first time you will be prompted to verify your email address and set a password for your Qase account. Once your account registration is complete, go to: https://app.qase.net/login to log in.
If you have any issues verifying your email address or need help with your Qase account, contact us at support@qase.ca
New Referrals: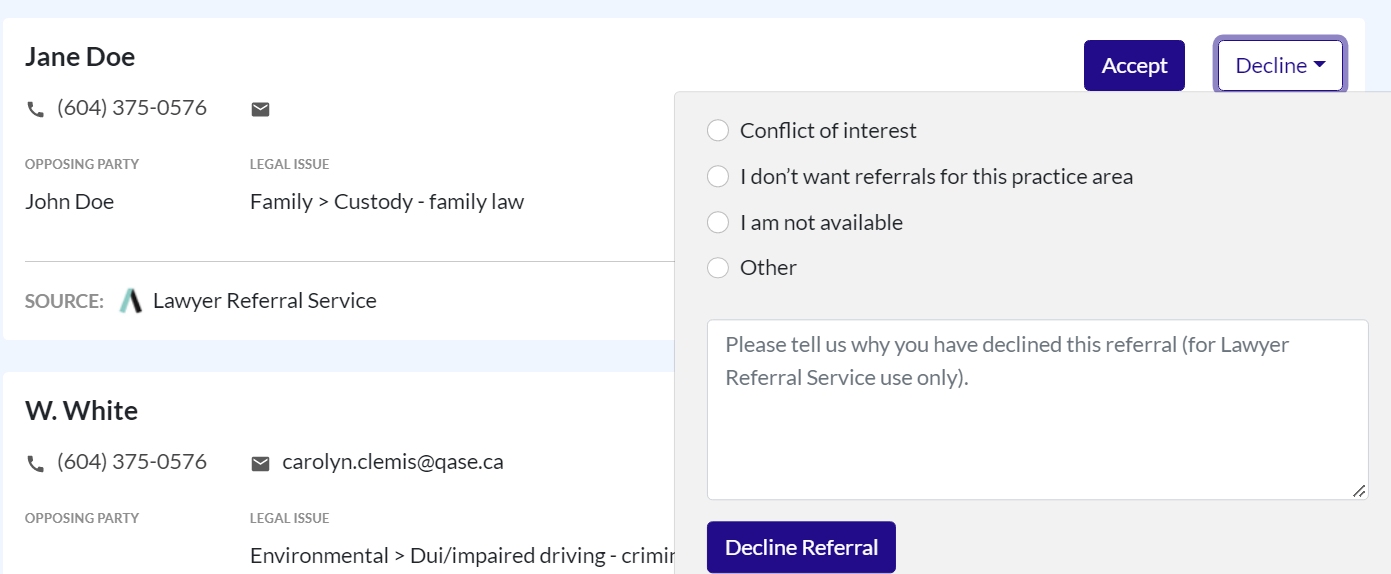 The referral page is the place where you can review new potential clients prior to adding them to your lead pipeline.
When you click accept, the referral is added to your Leads.
When you click decline, you can select a reason for declining the referral and send any additional comments.
Leads:
An accepted referral creates a new lead on the Lead Intake page.
Are your requests from new clients getting lost? You can now view all potential clients referred to you in one place. The lead intake page makes it easy to view and track new leads:

Simply update a lead status as 'Open' or 'Closed' by clicking the more action menu.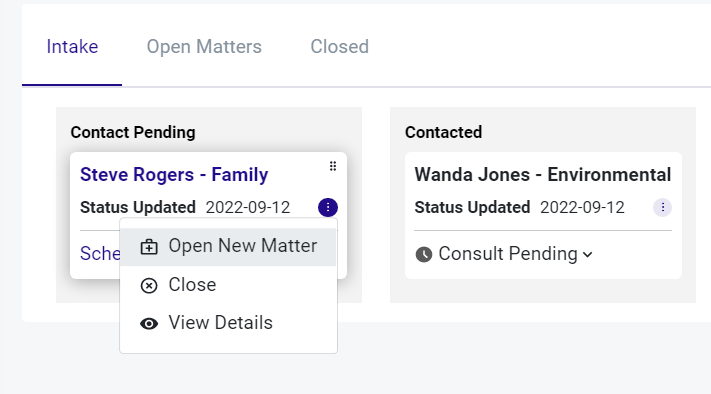 By monitoring and keeping the status of your leads up to date you can at a glance see which clients need to be follow up with and which are ready to hire.
---
Send a consultation booking link
Don't let requests from potential new clients get lost – send them a booking link. Clients seeking legal help like to talk to a lawyer as soon as possible, using the booking link makes going from referral to consult easier than ever.
Using the booking link to schedule a consultation through Qase allows you to:
Easily and efficiently automate the consultation booking process
Give clients a good first impression through a quick response and open communication
Skip the back-and-forth email and voice messages
Here's how it works:
1. Connect your calendar to your Qase account
Go to Profile > Business Hours
Select the type of calendar you use: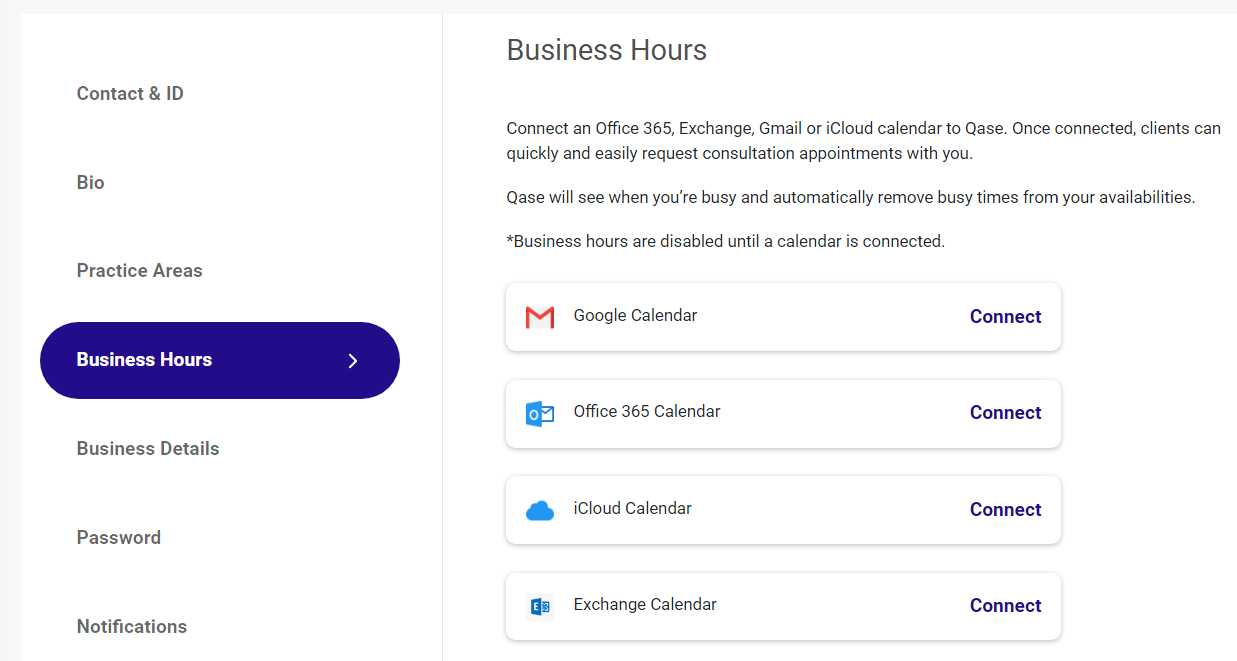 Follow the steps to connect your calendar and then set your business hours - the days and times you want to be available for consultation appointments.
2. Send the booking link to a potential client

Once you have connected your calendar and have a referral that was accepted, go to the Leads
page. You will see a prompt to 'Schedule Consultation'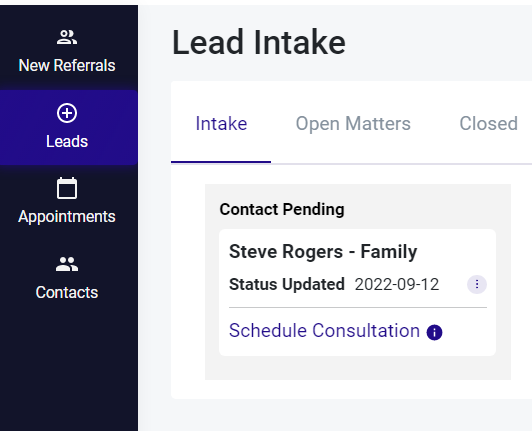 Click the prompt and send the booking link to your client.
Don't see the 'Schedule Consultation' prompt on your lead?
If you do not see a prompt it means the potential client has declined to be contacted by email or SMS - a booking link cannot be sent to them.
Once the appointment has been scheduled by the client the lead is automatically updated to 'Consult Scheduled'.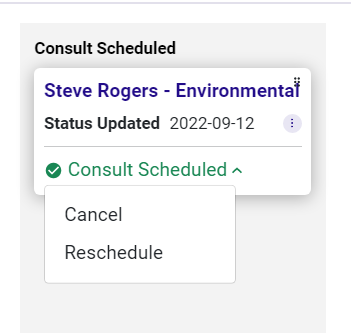 If you need to make a change, Reschedule or Cancel the appointment.
3. Connect with the client at the scheduled appointment time
When scheduling their consultation appointment your lead will select how they would like to connect for the call. They will choose either Video Call or to receive a telephone call from you.
You may contact the lead however you like, Qase gives you the option to start a video call or to make an outbound call.
You will receive an email reminder 30 minutes before the start of the appointment.
To start a consultation when the client has selected video call:
Lead intake is an important lifeline for your firm. Qase makes it easier than ever to go from referral to hired.