New Referrals Overview: The New Referral Page is the place where you can review new potential clients prior to adding them to your lead pipeline.
New Referrals are leads generated for your firm from:
Clients that have made their own contact request from your Law Firm Website
Referral Service Membership
Qase automatically tags who is referring leads to your firm and makes it easy to track your new referrals.
FAQ
Q. How will I know when I have a new referral?
A. You'll receive an email notification when a new referral has been created, log in to Qase and view the New Referral

Q. How do I respond to referral requests?
A. When a new lead is created you'll be able to review the details of the request and decide if you want to add the lead to your intake pipeline or decline the request.
View the Opposing Party and the Description of the request by selecting 'Reveal Case Description'.
If you would like to add the request to your intake pipeline click Accept.
When a request cannot be accepted, select Decline: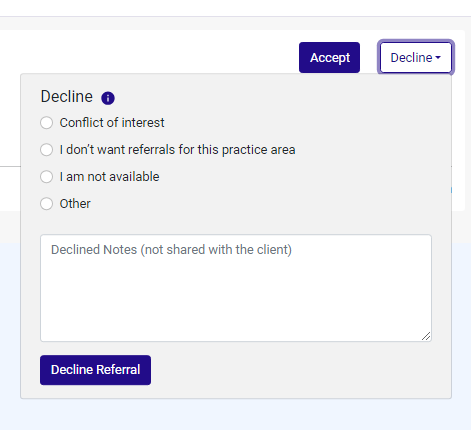 The reason for Decline and any notes you add are not shared with the client