You can start a new case for the clients you are already working with in Qase, or start a new case for a client who has not used Qase before.
Sign in and from the Case Dashboard select the NEW CASE button:

Choose the legal service type and add a client to the case. If you choose a practice area that is not listed in the practice areas on your profile, your base rate will be applied.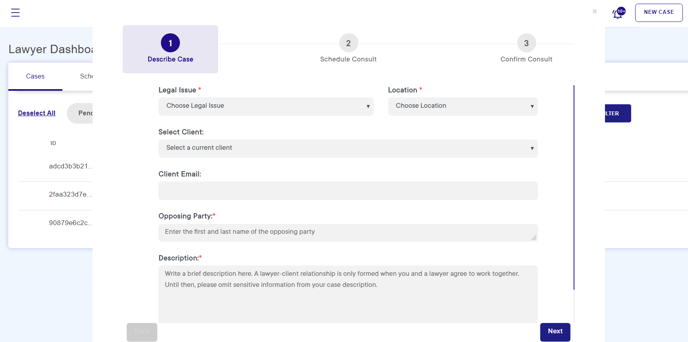 To create a New Case for a client you have already worked with in Qase or a client who has previously made a consult request with you, select their email from 'Select Client'
To create a New Case for a client who you have not worked with in Qase before, enter their email address in 'Client Email'. If the client has not registered for their Qase account they will receive an email with a link to begin the registration process.
Select a time from your calendar to meet with your client for an initial 15 minute consultation
If this is not a new client and a free consultation is not required you can cancel the consultation appointment after the new case is created

Review the details and send to you client for their acceptance